Everyone loves a great patio. They're the perfect place to comfortably relax outside, whether it's with friends and family or by yourself. 
Because it's outside, it's easy for your patio to fall into disrepair. Regular wear and tear combine with the outdoors to damage your patio, regardless of what it's made of or how often you make repairs. 
However, it's never too late to make your patio look new again. With a little time and effort, you can turn your old patio into the perfect outdoor space. 
Patio Repair vs. Patio Restoration – What's the Difference?
The first step to fixing any patio, no matter what it's made of, is to decide if you need repairs or a full restoration. Let's cover the difference between the two, so you know where to start. 
Repair
Repairs are meant to fix up small areas of damage. Every structure loses some structural integrity as time passes, especially something that's constantly outside, like a patio.
Basic repairs help your patio maintain its functionality and stay structurally sound. They get your existing masonry back into good shape so that you can use it comfortably. If your patio isn't in too bad condition, you might be able to get by with some minor repairs rather than a full restoration. 
Restoration
Restoration is usually more intensive than repairs. While the restoration process might include repairs, the goal is a little different.
If you're restoring a structure, you're bringing masonry back to its original look. Typically, restoration involves replacing old materials with new ones to make a structure look brand new again. Repairs support and maintain functionality while restoration focuses on revitalization. 
How Much Does It Cost to Renovate a Patio in Canada?
If you've decided you need to renovate your patio, you might be considering how much it'll cost. While you can do some basic repairs yourself, restoration almost always requires the help of a professional. 
Like every type of repair or renovation, the exact cost of renovating your patio will vary depending on your patio's size, the materials used, your location, and the amount of work needed. For general estimations, the average cost for patio work in Eastern Canada is about $60 per square foot.
These are the average costs for deck work based on materials in Montreal and Toronto according to RenoAssistance.
Material
Montreal
Toronto

Fiberglass

$17 to $21/ sq.ft. (without base structure)

$30 to $40/ sq.ft. (with structure)

$21 to $25/ sq.ft. (without base structure)

$36 to $55/ sq.ft. (with structure)

Treated wood

$40 to $50/ sq.ft

$50 to $60/ sq.ft.

Cedar

$50 to $60/ sq.ft

$55 to $66/ sq.ft.

Roasted wood

$50 to $60/ sq.ft

$60 to $85/ sq.ft

Composite wood

$60 to $70/ sq.ft

$75 to $85/ sq.ft.

Concrete

$60 to $70/ sq.ft.

$75 to $85/ sq.ft.
Contact your local masonry repair professional for a more exact estimate of your costs. 
How To Repair A Paver Patio
Like we mentioned above, you can do some minor repairs yourself. If you have a paver patio, most repairs require the same simple solution: replace the brick. 
Paver patios are incredibly popular in colder climates as they allow for fluctuation with the changing seasons. While other materials might not be able to withstand harsh weather conditions, paver patios are perfect for anyone who lives somewhere snowy and sunny. 
To get the most out of your paver patio, no matter the time of year, you should ensure that it's in good shape. The three most common problems with paver patios are sinking, loose, or crooked bricks. Luckily, all three require the same solution. 
What You'll Need
Sand

Level

Small pry bar or flat screwdriver

Broom

Rubber mallet

Water 
How to Replace a Paver Brick
First, you need to remove the bad brick. You might have to wet the surrounding sand to loosen it. 

Use your pry bar or flat screwdriver to wiggle it loose and take it out. 

Now you can add in the sand for the new brick a little at a time.

Smooth out the sand and tamp it down well. Use your level to make sure you have an even, solid base. 

Put the new brick in and check that it's the same height as the surrounding bricks. Use your level again to ensure it's even and avoid trip hazards.

Add more sand.

Use the rubber mallet to tap the brick securely into place.

Check the evenness with your level one more time. 

Add more sand, using the broom to sweep it into the crevices surrounding the brick.

Wet the sand, so it sinks into the cracks. 

Repeat steps 9 and 10 as needed. 

Sweep away excess sand.
How to Repair Cracks in a Concrete Patio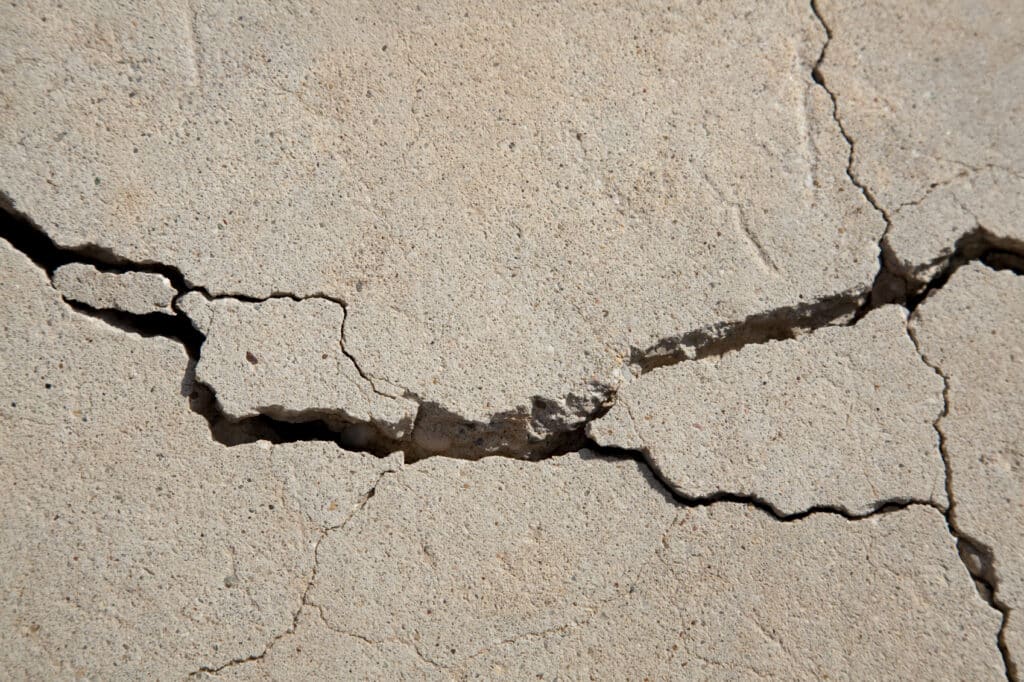 Concrete patios are a little harder to fix, but you can still do some minor repairs yourself. Small cracks are the easiest to fix yourself, and you want to repair them as soon as possible. It doesn't take much for small cracks to turn into big ones that can cause permanent damage.
While you can repair small concrete cracks yourself, there are a few things you should know before you begin. First, you can't fix it with concrete. 
The crack needs to be flexible to adjust with shifting concrete. The polymer-based filler you use in this fix allows for minor shifts while maintaining structural integrity.
Second, any crack wider than ½ an inch, or missing or tilted concrete, needs professional repair. You'll have to find a masonry contractor in your area that can fix it for you. 
Finally, the repair will always be visible. You might be able to hide it with paint if you use a paintable filler, but there will always be a patch on your patio. 
Now that you know the basics, we can cover how exactly you fix a small crack in your concrete patio. 
What You'll Need
Caulking gun

Hammer

Heavy-duty flat mason's chisel

Wire brush

Shop vacuum

Safety glasses

Hearing protection

Putty knife

Utility knife

Polymer-based concrete crack filler

Solid crack filler (This can be a closed-cell backer rod or clean sand and a funnel)
How to Fix a Crack in Concrete
First, you'll need to widen the crack. With your safety glasses and hearing protection on, place the edge of your masonry chisel into the crack. 
Keeping the chisel at a 45-degree angle, tap the back of it lightly with a hammer. Force it about ¼-inch into the crack, following the outline of the crack as you tap. Ideally, you want to create a v-shape for easy filling.
Use the wire brush to brush out the crack and dislodge small particles. 

Take the shop vac and thoroughly clean out the crack. Any leftover concrete particles can compromise the repair, so you want to make sure you get every last piece out.

If the crack is deeper than ¼-inch, you'll have to add some solid crack filler and bring it up to ¼-inch depth. Either dispense clean sand through the funnel or use the closed-cell backer rod.

Now you can add the concrete crack filler. Cut off the application tip and place a bead of filler into the crack.

Draw the filler along the crack and make sure it fully settles. To avoid gaps, squirt a small amount onto a piece of cardboard to get out air bubbles and reach the thicker filler. 

Use the putty knife to trowel down the putty. Draw the knife in the direction of the crack.

Add more filler if needed and trowel it down.

Allow the filler to cure for at least 24 hours before using your patio or painting or surfacing the patch. 
19 Ideas to Make Your Patio Look Like New
Outside of minor repairs, there are a lot of ways you can make your patio look brand new. Freshening up your outdoor space with some new plants or furniture can have a huge impact on the overall look of your patio. Here are 19 ways you can revitalize your patio, whether it's made of concrete, wood, paver bricks, or something else. 
1. Clear out the weeds.
Clearing the weeds growing around your patio or between bricks is a small change that can make the space look a lot cleaner. 
2. Use a concrete resurfacer.
A concrete resurfacer allows you to make your concrete look brand new. They're easy to apply, and you can pick whichever shade you want. 
3. Address minor damage.
Taking the time to fix small cracks or slightly uneven bricks not only helps your patio look better but also makes it safer. You eliminate trip hazards and prevent the damage from affecting your patio's structural integrity.
4. Give it a good wash.
Don't underestimate the power of a good wash. With the help of a good power washer, which you can usually rent from your local hardware store, you can get out deeply embedded dirt. 
5. Add shade. 
There are a lot of options for adding shade to your patio, from awnings to umbrellas to canopies. Even if it doesn't get particularly warm where you live, coverage from the sun protects your skin and allows you to stay outside longer. 
6. Add a pergola.
If you're looking for a more decorative structure, you can always add a pergola. While they don't offer much shade, they can take a basic structure and turn it into a beautiful outdoor space. 
7. Get some greenery.
Native plants take any outdoor space to another level. With some easy-to-manage greener, whether it's around the edge of your patio or in pots, you can add some color and life to your space. 
8. Add more color.
While plants can add a touch of lively green, you can also add some more color with furniture or paint. Try to match the outside of your house for a great overall look.
9. Find an outdoor rug.
Adding an outdoor rug is the easiest way to bring life to your patio. Find one that you love and place it on your patio for a splash of decor. 
10. Paint your concrete.
If you have a concrete patio, but you're tired of the same grey, you can paint it. While you can always stick with a single color, you can also paint a pattern for a unique look.
11. Use deck flooring. 
Deck flooring is an easy way to change up your patio. Just find the flooring you love that matches your home and place it down. 
12. Add a border.
No matter what your patio is made of, a border of a matching material can add style. You can use railing, low walls, or even a small paver border to outline your patio. 
13. Repair old furniture.
If you have some outdoor furniture that's seen better days, you can easily fix it up with some paint and a thorough clean. As long as your furniture is in decent condition, repairing it can let you use it for a few more years. 
14. Get new furniture.
If your outdoor furniture is past saving, look for new pieces in secondhand stores or online. You can always fix up lightly used furniture, and you might find some pieces in great condition. 
15. Add outdoor cushions.
Adding a few cushions could be the thing that brings your whole patio together. They make your furniture more comfortable and help your outdoor space look better.
16. Hang lights.
For nights spent outside, hang some outdoor lights that you leave up year-round. 
17. Add a small fountain.
A small fountain can make your patio feel more relaxing and add an elegant touch to your outdoor space. 
18. Get a fire pit.
If it's safe for you to have one, a fire pit can let you use your patio even when it's cold out. Just make sure you're following all safety precautions and maintaining distance from your home.
19. Put up torches.
Torches are another option for lighting that can add flair to your patio.
Final Thoughts
Your patio is a great place to relax outside. With some repairs or restorations, you can make your patio look new again and create the perfect outdoor space.